Last month the Utah State Legislature interim committees brought up issues of concern in preparation for the upcoming legislative session. A major concern before the judiciary interim interim committee was the impact of governmental immunity on everyday citizens, while the business and labor committee reviewed draft proposed legislation for administrative appeal rights and licensing exemptions for bowen work providers.
Governmental Immunity
The Judiciary Committee discussed issues relating to governmental immunity and Title 63G, Chapter 7, Governmental Immunity Act of Utah.
Representative Michael McKell stated that governmental immunity is something that he has been concerned about for a number of years. He told the story of a tow truck driver that had suffered financially due to government immunity. Last session, during the governor's state of the state address, there was a shooting in Herriman and a police chase that ended in Spanish Fork, where Judd Layson, who owns a small busness in Spanish Fork, witnessed a big crash out front of a gas station. A sheriff's vehicle T-boned the shooting suspect's vehicle, which int turn hit Judd's tow truck and totaled it. The accident was in February and he received a denial letter from for coverage of his claim because the government considered itself immune to the damages. His insurance eventually covered the damage, but his policy increased by $5,000 per month for the next three years because he filed the claim. Judd also lost revenue during the time he was out a tow truck for five weeks.

Steve Sullivan is a practicing attorney in Utah. He talked about some of the issues his office sees when it comes to catastrophic injury claims. The current government cap of $5 million is often not enough to cover for the losses caused. He testified that as there are more government employees in the public sphere, the likellihood of injuries increases. The current cap is set per accident, regardless of bills and lost wages. A board of examiners examines cases that are in excess of any allowable claim, which must be referred to the legislature to approve. He spoke of an instance which took over two years to work through the board of examiners. He recommends having a standing fund to help cover cases as well as guidelines to help direct compensation. 
Russ Heimas, a personal injury attorney with Christian and Heimas in Draper, spoke of instances involving state employees on the road. State employees, like anyone else, will have accidents. Russ gave an example of a 22 year-old Utah Valley University student hit on his motorcycle on his way to class by a UVU maintenance person making an illegal left turn. The young man,lost his left leg and had approximately $315,000 in medical bills. He will have to wear prosthetics for the remainder of his life, which will require maintenance and variety of prosthetics at a future cost of about $500,000. Even though these things don't happen every day, Russ believes that people should be able to be compensated commensurate with the damages that incur.
Representative Lisonbee introduced Brandi Page, who testified that two years ago her friend had a home invasion in which the invader beat her and left feces all over her house and place. Her friend called 911 and expected the police to investigate. Two months later, they had still not heard from the police department. Her friend went into police department to give a statement. Three months later they the police still had no suspects or collected any DNA results. It took 12 to 18 months to process the DNA. After 12 months, Brandi reached out to Rep Lisonbee. The agency finally started to give the results of their investigations to the rape victim. Brandi felt that they were complete lies. She felt that the victim was denied an investigation of the officers with regards to victim rights because of government immunity. It cost her friend $10,000 to work with a lawyer who has had to to go through a number of legal loops. Brandi feels that government immunity is perpetuating a problem. Two years later, the case is still not settled. If there is a settlement the lawyer will get 40% of the settlement. Brandi also told the story of another woman who was raped and the police decided to label it consensual and not prosecute it, even though she had a recording available of the rape. Brandi stated that a lot of victims wind up just giving up.
Draft Legislation "Administrative Appeal Rights"
3A - Administrative Appeals Rights (2019 General Session Draft Legislation)
Mr. Chris Hill, Deputy Commissioner, Labor Commission, stated that this bill has been drafted since the last time it was discussed in committee. They are in agreement with the drafted version of the bill. It allows a claimant in a fair housing case to appeal a decision the same way that a respondent can appeal a decision to the Division of Adjudication within the Labor Commission. Currently, while the respondent can appeal, the claimant does not have an equivalent appeal right. 
Draft Legislation "Massage Therapy Practice Act Amendments"
4A - Massage Therapy Practice Act Amendments (2019 General Session Draft Legislation)
Rep. Roberts brought the bill forward for informational purposes. The bill died on the floor of the Senate last session. Bowenwork is a system of touch on certain pressure points to activate nerve endings, There are only two or three bowenwork providers in the state. Bowenwork providers don't need to do all the study for a license for massage therapy if they don't do massage therapy. Essentially this bill exempts bowenwork providers from having to get a massage license to practice.
The next interim meeting of the Business and Labor Committee is scheduled for October 17 at 1:15 pm in the Utah Senate Building Room 210. The meeting schedule and transcripts are available at http://le.utah.gov
Always in Service,
Sophia
Sophia Hawes-Tingey is the Chair of the Board of Directors for the Transgender Inclusion Project, Legislative Liaison for the Utah Gay and Lesbian Chamber of Commerce, the Co-Chair of the Business and Labor Committee of the Women's State Legislative Council of Utah, member of the Board of Directors for the Utah Stonewall Democrats,  the Vice Chair of the Community Council of Midvale, and co-founder of People Empowered, LLC. You can visit Sophia's webpage at http://www.sophiahawes.com or follow her on Facebook and Twitter.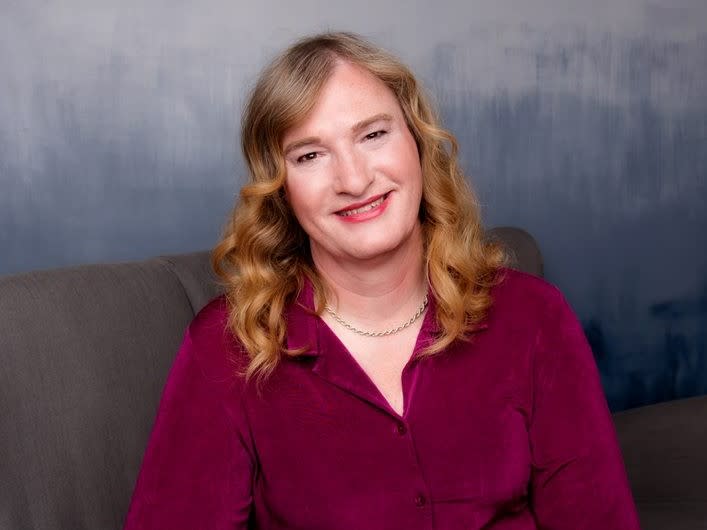 Do you like this post?